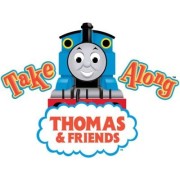 Take-Along Thomas and Friends is a series of die-cast models and portable playsets for preschool children. The set, made by Learning Curve after the ERTL Models discountinued its Thomas the Tank Engine in America, is not compatible with the Thomas Wooden Railway system althrough in 2006 a combnation of the Take-Along and the Wooden Railway was made. They have a special "two-way" magnets instead of plastic couplers used with the ERTL Models. In 2010 the range was added to Mattel's Fisher Price range and was renamed Take-n-Play.
Thomas
Edward
Henry
Gordon
James
Percy
Toby
Duck
Donald
Douglas
Oliver
Emily
Molly
Lady
Diesel 10
Salty
Mike
Harvey
Bill and Ben
Mavis
Fergus
Murdoch
Arthur
Culdee
Diesel
Neville
Dennis
Arry and Bert
Stepney
Rosie
Daisy
Whiff
Billy
Stanley
D199
Hiro
Skarloey
Rheneas
Duncan
Freddie
Mighty Mac
Sir Handel
Peter Sam
Duke
Rolling Stock
Edit
Annie and Clarabel
Rocky
Giggling Troublesome Trucks
Troublesome Truck
The Breakdown Train
Milk Wagon and Sodor Line Caboose
The Chinese Dragon
Magic Cargo Car
Sodor Log Loader
Magic Mining Car
Sodor Oil Barrel loader
Coal Hopper Car
Tar and Fuel wagons
Oil Tanker
Zoo Cars
Jack Jumps in Movie Car
Faulty Whistles Movie Car
Percy and the Funfair Movie Car
Rock Hopper Car
Misty Valley fog Cars
Musical caboose
Smelter's Cargo Car
Mail Truck
Hector
Fireworks Car
Sea Cargo Cars
Poppin' Popcorn Tanker
Toad
Ad blocker interference detected!
Wikia is a free-to-use site that makes money from advertising. We have a modified experience for viewers using ad blockers

Wikia is not accessible if you've made further modifications. Remove the custom ad blocker rule(s) and the page will load as expected.