Thomas Trackmaster
is a battery-operated system that was manufactured by HiT Toys in the US and TOMY in the UK. The range was made in 2007 after TOMY US lost their license to make the range. In 2010, Fisher Price picked up the licenses.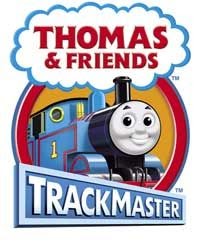 Engines and road vehicles
Edit
In the US the engines and road vehicles where first released with half straight track or road pieces. Engines with "*" next to them mean that this engine was available without a car as well.
Most engines were also exlusively released in three-packs in the US. Some engines were also rereleased with different cars.
Thomas with Annie and Clarabel
Edward with Green Van (formally Troublesome Truck and Troublesome Van)
Henry with Fish Van and Black Breakvan (formally Fish Van and Log Car)
Gordon with Green Express Coach
James with Black Breakvan (formally Cattle Truck and Black Breakvan)
Percy with Black Tarped Troublesome Trucks (formally Fuel Tanker and Mail Car)
Toby with Henrietta and Troublesome Truck
Duck with S.C.Ruffey and Toad
Donald with Troublesome Truck
Douglas with Red Truck
Mavis with The Breakdown Train
Diesel with Milk Tanker and Red Van (formally Milk and Fuel Tanker)
Bill with Red Bolster Wagon and Slate Truck
Ben with China Clay Trucks
Boco with Troublesome Truck and Tar Tanker
Lady with Troublesome Truck and Blue Breakvan
Diesel 10 with Troublesome Trucks
Splatter with Olive Coach and Blue Cattle Van
Dodge with Olive Coach and Tile Truck
Stepney with Troublesome Truck and Mail Car
Salty with Black Tarped Troublesome Trucks
Harvey with Works Unit Coach and Green Van
Arthur with Troublesome Truck and Red Bolster Wagon
Emily with One Of Her Coaches
Spencer with Black Breakvan (formally Duke and Duchess Private Coach)
Molly with Green Truck
Neville with Red Van
Dennis with Tile Trucks
Rosie with Green Trucks (formally Green Ballon Trucks)
Whiff with Orange Rubbish Truck and Blue Truck
Billy with Chicken Car and Green Breakvan
Skarloey with Blue Narrow Gauge Coach and Blue Breakvan (formally Blue Narrow Gauge Coaches)
Rheneas with China Clay Troublesome Truck and Slate Truck
Sir Handel with Red Narrow Gauge Coaches
Rusty with S.C.Ruffey and Red Narrow Gauge Coach (formally Red Narrow Gauge Coaches)
Duncan with Slate Trucks
Freddie with Green Narrow Gauge Coach and Green Truck (formally Green Narrow Gauge Coaches)
Mighty Mac with Green Narrow Gauge Coach and Troublesome Truck
Proteus with Red Log Car and Blue Truck
The following engines were also released by themselves without track:
Thomas
Edward
Gordon
James
Percy
Toby
Duck
Donald
Douglas
Arthur
Rosie
Bill
Ben
Stepney
Lady
Salty
Diesel
Splatter
Dodge
Dennis
Bert
Boco
Mavis
Skarloey
Rheneas
Peter Sam
Rusty
Duncan
Freddie
Duke
Bertram
Proteus
Flora
Stanley
In the US, some engines were released either a small engine with a car or a tender engine. The packaging showed a background of a quarry.
In the UK, the engines are sold in the same way the Motor Road and Rail engines were, this time reskinned in TrackMaster packaging and some newer characters bought in.
Non-powered Vehicles
Edit
Remote Controlled Engines
Edit
The RC engines were later rereleased as two packs in 2009.
Talking Engines
Edit
Special talking engines with flip-faces and special track were made for Hero of the Rails.
Greatest Moments
Edit
Destonations
Edit
Sodor Mountain Mine
Sodor Airport
Echo Cave
Sodor Engine Wash
Harold at the Hangar
Jeremy at the Hangar
Hay Loader
Cranky
Knapford
Build-a-Bridge
Accesories
Edit
Y-track pack
Backpack of Track
Quarter straight track pack
Turn-out track pack
Curved track pack
Straight track pack
Sloped straight track pack
Track expainsion pack
Sodor Roadway Expansion Pack
S-track pack
Trucks and Track packs
Edit
Thomas at Tidmouth Sheds
Hard Work at Brendam Docks
Thomas at the Station
Sodor Lumberyard
James at Boulder Mountain
Toby at the Copper Mine
Thomas at the Coal Station
Sodor Adventure
Percy at the Ice Cream Factory
Sodor Airport
Thomas and Emily at Knapford
Duck at Farmer McColl's
Thomas at Action Canyon
Thomas' Busy Day
Thomas at Morgan's Mine
Percy's Day at the Farm
Colin in "The Party Suprise"
Nelson at the Quarry
Topped Off Thomas
Spin and Fix Thomas
Thomas Track Set
Percy Track Set
James Track Set
Gordon Track Set
Thomas' Wild Ride
Thomas at Boulder Mountain
Bertie with Road Circut
Green Bulgy with Road Circut
Elizabeth with Road Circut
Holiday Time in Sodor
Ad blocker interference detected!
Wikia is a free-to-use site that makes money from advertising. We have a modified experience for viewers using ad blockers

Wikia is not accessible if you've made further modifications. Remove the custom ad blocker rule(s) and the page will load as expected.