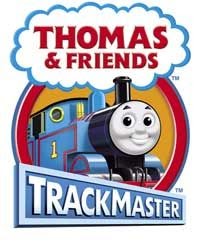 Trackmaster UK Series is a battery-powered system made by Thomas Trackmaster (HiT Toys). That year after TOMY US had lost their license to make their range. This also had stuff for the UK episodes and DVDs. The packaging did not show much of the last truck like the US models. The range ran untill 2010, when it was not in stores anymore. Then Thomas Trackmaster (Fisher Price) had a deal with the models and picked up the license. They started to sold their range for much different prouducts for their range and their models of Thomas and Friends US episodes and DVDs. They run on Speical Blue Tracks. They used different tracks from each other. They have different amount of prouducts. They have different "Off and On" switches from the Thomas Trackmaster (HiT Toys) looked different from the new prouducts Thomas Trackmaster (Fisher Price) used on their engines. Some engines are the same cars as the US. Fisher Price had the engine's name written differently. The Thomas Trackmaster (HiT Toys) went faster than the Thomas Trackmaster (Fisher Price) engines on the tracks when both of the range of engines ran on the tracks. They come with a battery checklist.
The engines come in a sided packaging with the logo, the picture of Thomas was there and it's name in the back. This packaging had the engine on track. Every engine has a Truck or Two hiding in the back of the packaging. These engines all fit in the packaging. These engines have the abilaty to run on any TrackMaster tracks and come with trucks below:
Japanese Tender Models
Edit
The Henry with Log Car is being renamed Henry with Fish Van and Log Car.
The James with Cattle Van is being renamed James with Cattle Truck and Breakvan.
HiT released Thomas, Percy, Mavis, Gordon, Toby, Molly, Emily, Donald, Duck, and Boco again, but in the US packaging.
These engines were discountnued and is now being replaced by TrackMaster
Fisher Price also rereleased a new Rocky for the new TrackMaster.
Some models were in Motor Road and Rail.
Edward was the only engine that was released with Four half straight track pieces.
Every set was released with half straight track pieces.
Splatter and Dodge's set was the only set that came with two seprate engines.
The new models HiT did not release before were the model ideas.
Motor Road and Rail released the Japenese Talking Engines Japanese Edward with Troublesome Truck and Troublesome Van, Japanese Henry with Troublesome Truck and Troublesome Van, Japanese Gordon with Green Express Coach, and Japanese James with Troublesome Van and Tar Tanker again, but in better quality.

Ad blocker interference detected!
Wikia is a free-to-use site that makes money from advertising. We have a modified experience for viewers using ad blockers

Wikia is not accessible if you've made further modifications. Remove the custom ad blocker rule(s) and the page will load as expected.